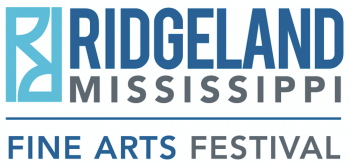 Artist Applications for 2019 will be taken through
zapplication.org from June 11 to December 6, 2018.
Click here to apply!
FOR MORE INFORMATION
Please contact Bob McFarland via e-mail at bobmcfarland2@hotmail.com or by phone at 253.275.8108.
ORGANIZATION/MISSION
The Ridgeland Fine Arts Festival is a program of the Ridgeland Tourism Commission, a tax-exempt state-chartered agency. The objective of the festival is to provide an opportunity for artists from across the United States and patrons from across the Southeast to meet, interact and conduct business, thereby increasing local tourism and the perception of Ridgeland, Mississippi as a cultural destination.
Ridgeland is a suburb immediately north of Jackson, Mississippi, the state capital, and located in Madison County. Ridgeland was recently named by Money magazine as one of the Top 100 "Best Places to Live" in the United States.
The show received the  "Top 20 Event Champions Award" in the Southeast by the Southeast Tourism Society.
Artists will retain all proceeds from their sales. No commissions will be collected. All revenues collected by the festival will be used to produce and promote it.
Check out the ARTIST GUIDE