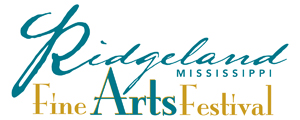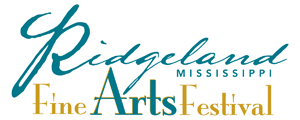 Applications will be accepted August 1, 2016 – December 4, 2016.  
Renaissance at Colony Park
Ridgeland, Mississippi (South East)
Phone: 800-468-6078
Show Dates: 4/1/17 – 4/2/17
The Ridgeland Fine Arts Festival is presented by the Ridgeland Tourism Commission who develops and implements a robust regional marketing campaign for the show. All festival proceeds are used to produce and promote the show.
The Ridgeland Fine Arts Festival will be held at the beautiful Renaissance at Colony Park. Opened in 2008, Renaissance at Colony Park is a lifestyle center masterpiece for shopping, dining and entertainment inspired by the old-world beauty and grace of European and Mediterranean architecture.
We look forward to having you and your artwork in Mississippi!
The Ridgeland Fine Arts Festival is presented by the Ridgeland Tourism Commission, a tax-exempt, State chartered agency.
The Ridgeland Fine Arts Festival was recently named a "Top Twenty Event" by the Southeast Tourism Society and among the "Top 100 U.S. Art Fairs" by Art Fair Sourcebook.
Held in the mild and refreshing days of early spring, the Ridgeland Fine Arts Festival presents artists and their work against the splendid setting of Renaissance at Colony Park, a regional lifestyle center renowned for its shopping, dining and entertainment as well as for its graceful Old World architecture inspired by the cities of Europe and the Mediterranean.
Santé South Wine Festival, an international showcase of the world's premier wines and some of Mississippi's most succulent culinary delights, will be held collectively with the Ridgeland Fine Arts Festival.
The City of Ridgeland has grown from a quiet suburb of Jackson, the state capital, to a vibrant hub for the arts and a premier retail and dining venue.
Hopefully, you have heard great things about our stunning venue and increased sales and attendance from your fellow artist and our artistic director, H.C. "Chris" Porter.
• The timing of our show works well for routing with some of the spring Texas shows and events in Atlanta and New Orleans.
• Limited to 100 artists
• $7,500 Cash Awards
• Easy load-in and load-out
• Hyatt Place Jackson/Ridgeland is adjacent to the festival site and offers special show rates for artists.
• Free, convenient artist parking
REQUIREMENTS
Media
Images: 5 (a booth shot is required)
Jury Fee (non-refundable jury fee): $30.00
POINTS OF INTEREST
-Artists will retain all proceeds from their sales
-$7,500 awarded by our judge
-Number of participants limited to 100
-All proceeds are used to produce and promote the festival
ARTIST AMENITIES
-Complimentary Artist Awards Breakfast on Sunday morning at the elegant Biaggi's Ristorante Italiano (two admissions per booth)
-Box lunch delivered to your booth on Saturday
-Cold bottled water delivered to your booth periodically
-Your name, medium, city, state, one image and a link to your website will be included on our website.
-Complimentary festival t-shirt (one per booth)
-Van and RV parking close to the festival
-Reduced room rates at our on-site host hotel, the Hyatt Place Jackson/Ridgeland (including the Hyatt Touch with Hyatt Grand Beds, complimentary continental breakfast, complimentary hi-speed Wi-Fi internet access throughout the hotel and more)
-discounted room rates at local hotels
-24-hour security
-Booth sitters
AWARDS
$7,000 will be awarded by the festival judge.  Best of Show will receive $1,500.  There will be five (5) Judge's Choice awards given in the two-dimensional category (includes: Drawing/Pastels, Mixed Media 2D, Painting, Photography, and Printmaking), and five (5) Judge's Choice awards in the three-dimensional category (includes: Clay, Fiber, Glass, Jewelry, Mixed Media 3D, Sculpture, and Wood).  Our judge will also determine which artist will get the $500 award for the Best Booth Display.  All award winners will be automatically juried into the 2018 Ridgeland Fine Arts Festival.  Judging will take place Saturday, April 1 during the hours of the festival.  Commemorative awards and cash awards will be presented at the Artist Awards Breakfast on Sunday morning.
Best of Show ($1,500)
(5) Judge's Choice, 3-Dimensional ($500 each)
(5) Judge's Choice, 2-Dimensional ($500 each)
Best Booth Display ($500)
Best Emerging Artist
Best of Student Art Gallery Best of Show
ADVERTISING AND PROMOTION
Our advertising and promotion effort publicizes the festival throughout the state of Mississippi and the Southeast region. The festival will also be marketed through direct mail, internet outlets and paid advertisements in tourist publications.
IMPORTANT DATES
August 1, 2016 (Monday): Online application available
December 4, 2016 at Midnight CST (Sunday): Application Deadline – $30 non-refundable fee
December 14, 2016 (Wednesday): Artists notified of selection via e-mail
January 10, 2017 (Tuesday): Deadline to accept invitation to participate and pay regular booth fee
February 1, 2017 (Wednesday): Last day to cancel and receive a 90% refund of the booth fee
March 31, 2017 9am-5pm (Friday): Artist check-in and load in
SHOW DATES
April 1, 2017 10am-6pm (Saturday)
April 2, 2017 11am-5pm (Sunday)
April 2, 2016 5pm-Midnight (Sunday): Artist Load-Out
APPLICATION PROCESS/IMAGES
The Ridgeland Fine Arts Festival uses ZAPPlication to administer our application and jury process. Interested artists should complete an online application and submit a non-refundable jury/application fee along with five (5) artwork images for each media category.
Digital Images: Images 1 – 4 should represent the complete range of work that you intend to display or sell at the Ridgeland Fine Arts Festival.
Digital Booth Image: Image number 5 should be an image of your booth display. Please be sure that the slide of your booth is representative of the booth quality you intend to provide at the festival. Please do not submit booth images with any identifiable signage or photo of the artist. If a booth image is not available, please submit an image taken of a grouping of works showing the overall continuity and presentation of your current body of work. The purpose of the booth image is to ensure you have a complete body of work which is represented in the first 4 images. It also helps us identify the scale of your work. We do not accept "photoshopped" or enhanced booth images.
Artist's Statement: As part of your application, please submit an artist statement of fewer than 100 characters explaining the process and materials used in your artwork, as well as your reproduction process.
Images from accepted and waitlisted artists may be used for promotional purposes.
MEDIA CATEGORIES
Clay – Art objects, either functional or decorative of earthenware, porcelain or tile, made by shaping and then firing. If multiple pieces of the same design are displayed, the artist must sign each piece.
Drawing/Pastels – Drawings are works on paper using pencil, crayon, ink, charcoal, pastels and a variety of other marking media.
Fiber – Includes artwork from fibers such as basketry, embroidery, weaving, leatherwork, tapestry and papermaking.
Glass – Glass works that are functional or decorative by design and are kiln-formed or crafted by glass blowing, molding or casting. Works may be etched or engraved.
Jewelry – All jewelry, produced from metal, glass, clay, fiber, paper, plastic or other materials.
Mixed Media (2D) – Works that incorporate more than one type of material in their production and are displayed on walls with a one-sided orientation.
Mixed Media (3D) – Works that incorporate more than one type of material in their production and are visible from 360 degrees.
Painting – Creation of a still life, portrait, landscape, abstract or other image on a flat surface, such as canvas, with watercolors, oil, sticks or acrylic paint.
Photography – Process of capturing images of objects by the action of light, then printing the images by chemical or digital means onto a flat surface. Photographers are required to disclose both their creative and printing processes. Work in this media category must be limited editions, signed and numbered on archival-quality materials.
Printmaking – Prints hand-pulled by artist from traditional methods, including etching, engraving, silkscreen, stone and plate lithography, linoleum block or woodcut, produced in signed and numbered limited editions from an original image created by the artist.
Sculpture – Non-functional, three- dimensional work of any material.
Wood – Art objects, either functional or decorative, that are hand-tooled or machine-worked, turned or carved.
JURORS/JURY PROCESS
An expert panel including the three jurors listed above will review the images submitted by each artist using a blind jury process. Images will be scored from 1 (low) to 7 (high) with no 4. Artist statements are shared with jurors.
Acceptance Notification: Jury results will be sent to applicants via email on Wednesday, December 14, 2016.
Waitlist: A waitlist will be established based on jury scores. Waitlisted artists will be notified when a space becomes available.
FOR MORE INFORMATION
Hotel Rooms, Restaurants or Directions – Information will be provided upon acceptance. For further information, please contact the Ridgeland Tourism Commission by phone at 800.468.6078 or visit our web site at www.visitridgeland.com.
Other inquiries – Please contact Bob McFarland, Festival Director, by phone at 253.344.1058 or via e-mail at bobmcfarland2@hotmail.com.
Rules/Regulations
ELIGIBILITY/ARTWORK POLICIES
Artists must be at least 18 years old.
All work must be original, well-conceived, and expertly executed by hand or with appropriate tools by the exhibiting artist. Works from commercial kits, casts, molds, patterns or plans, prefabricated forms or other commercial methods are prohibited. Studios producing works in volume are not eligible for entry.
The Ridgeland Fine Arts Festival will inspect booths onsite to ensure adherence to rules and standards. Individuals selling work that is not their own or otherwise misrepresenting their product or themselves are not welcome and are requested to refrain from applying. Exhibitors found not to be in compliance at the very least will be asked to remove the unacceptable items, and risk forfeiture of all rights as an exhibitor. This includes closure of their booth for the rest of the festival with no refund of fees.
Only artists accepted in the jewelry category may exhibit or sell jewelry. Jewelry is not accepted in any other category.
Collaborative Work: Collaborating artists are defined as two (2) or more artists who work together on any one piece of art. Collaborative work is regarded as one entry and should be submitted as a joint application. If accepted, collaborating artists may only exhibit work that is collaborative.
Multiple Categories: A separate application, jury/application fee and (5) images are required for each media category entered. Artists may only exhibit and sell work in the medium (media) for which they are accepted.
Photographic and Reproduction Policies: Photographic and Digital Art prints must be made from the artist's original negative or digital file under the artist's supervision. A reproduction is defined as any existing work of art (such as a painting, watercolor, drawing, photograph, etc.) that is copied by digital or photographic means and printed on an offset press, a serigraph press, or through a computer by means of an ink jet or electrostatic printer. This definition includes giclees and reproductions with additional enhancement by the artist.
Artists must disclose the edition numbers for works produced in editions. All prints must be in limited editions of 350 or fewer (inclusive of all sizes) on archival paper, and numbered and signed by the artist on the front of the piece.
Prints may comprise no more than 25% of the total works to be sold.
All two-dimensional artwork must be appropriately framed or matted and must be displayed on a suitable panel or in a portfolio or stand.
Mass-Production Policies: Ready-made or factory-produced objects (i.e., clothing or furniture) which have been embellished, painted, decorated, dyed or batiked will not be accepted regardless of additional modification or enhancement by the artist.
No machine-tooled, machine-screened patterns or miscellaneous forms of mass production are permitted.
Mass-produced merchandise and/or promotional items whether derived from original or non-original artwork are not permitted to be displayed or sold at the festival. This includes, but is not limited to, cards, postcards, note cards, photocopies, posters, mouse pads, t-shirts, calendars, etc.
SALES TAX
The Mississippi Tax Commission requires the Ridgeland Tourism Commission to collect all sales taxes from artists at the conclusion of the festival. Artists are required to complete a very short tax form and remit all sales taxes to a designated festival representative at the end of the show. Madison County has a 7% sales tax.
BOOTH INFORMATION
All booth fees paid via ZAPPlication.org
Standard Booth Fee: $250
Double Booth Fee: $500 (limited availability)
Additional Fee for Corner Booth: $100 (limited availability)
Please do not send booth fees until you accept our invitation to participate.
BOOTH SPACES/POLICIES
Booth spaces are on asphalt or brick. Each exhibitor will be provided a space measuring (minimum) 11'x11′ to house a booth structure with dimensions no larger than 10'x10′.
Artists are responsible for providing all booth structures, racks, tables, chairs, display units, and other fixtures suitable for outdoor use and constructed to withstand crowds and wind. Artists are responsible for ensuring that their tent and its accompanying structures are properly secured especially in the case of rain or wind. All tents/structures must be secured by the use of substantial weights. Only artists who are located near grass may drive tent stakes/anchors into the ground.
Artists are responsible for proper insurance and protection of work and structures. The festival is not responsible for damage to work or structures due to weather or unrelated incidents. Each artist is responsible for his/her own display in case of damage or loss. Artists will be held liable for any damage made by their tents or structures.
Booth assignments are at the sole discretion of the festival and are not interchangeable. Ridgeland Fine Arts Festival will attempt to honor specific location requests, but can make no guarantees. Corner spaces may be requested, but are assigned solely on the basis of availability and at the discretion of the festival.
Artists must be present during the entire festival and must personally staff their exhibit space. No spouses, agents, dealers, or representatives may attend in place of the artist. Artists who sell their entire body of work must remain with their booths for the duration of the festival. Artists who break down displays or depart before closing time on any day of the festival will not be allowed to return the following day or to future shows unless proof of an emergency is presented.
All artwork must be set up within the booth space. No art is to be displayed outside the allotted booth space.