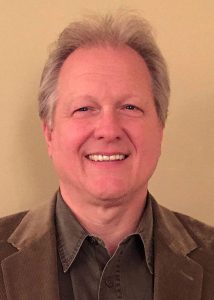 Sam Collins is a native of Cincinnati, Ohio. Sam studied art and biology at the University of Cincinnati. He continued his studies with a Master's of Science Degree in Medical Illustration from the Medical College of Georgia. Sam has spent the majority of his professional career illustrating the intricacies of the human body, creating cellular landscapes, and explaining scientific concepts through pictures. He is a Certified Medical Illustrator and a Fellow of the Association of Medical Illustrators.
After thirty years of such specialized artwork, Sam is creating digital images and mixed media artwork that are reminiscent of days spent on family road trips when he was a kid.
Everyday objects, signs, buildings, cars, music, advertising imagery and daily events, influence Sam's artwork. His art focuses on the historical relevance of objects and places and how they triggerour memories and emotions.
Sam's artwork combines photos (both old and new), digital images, drawing, color, and texture to tell a story. The final pieces are printed on aluminum or canvas.
"I want to take something from another time and present it in a new way. I try to create images that recycle and tell a new story from old material."